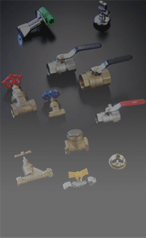 Avonflow has been certified by Alibaba as "Verified Supplier
---
  Avonflow has been certified by Alibaba as "Verified Supplier"
In order to better show the comprehensive strength of the enterprise to global customers and enhance customer trust, Jiangxi Avonflow HVAC Technology Co., Ltd. applied to Alibaba for the certification of "Verified Supplier".
Recently, Jiangxi Avonflow HVAC Technology Co., Ltd. successfully passed the Alibaba "Verified Supplier" certification through the strict comprehensive evaluation and certification of the international independent third-party testing, inspection and certification agency TUV Rheinland. So far, Avonflow has demonstrated its enterprise strength to the world in a more authoritative, accurate and comprehensive way.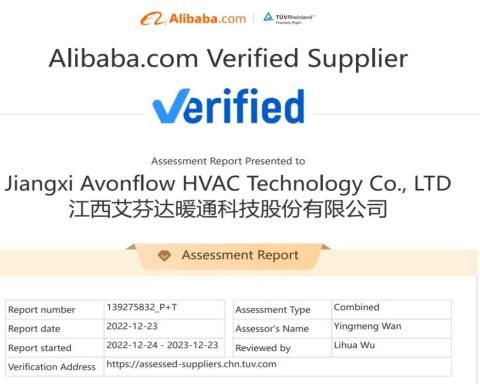 Verified Supplier is an internal certification system of Alibaba. It is an all-round qualification certification for enterprises, and has high public trust value. It is an Alibaba third-party cooperative certification agency that authenticates and transmits the full strength of enterprise qualifications, commodity qualifications, enterprise capabilities, etc., aiming to help international buyers further understand the current real production capacity of the factory and make decisions quickly.
A few days ago, Alibaba, together with TUV Rheinland Germany, conducted on-site certification for Avonflow. This factory inspection audit covers the company's plant, products, production equipment, R&D capacity, production capacity, quality control capacity, etc. The inspectors carried out strict and meticulous review one by one, and took relevant videos. After evaluation, all index data of Avonflow meet relevant standards, and it is approved to pass the Verified Supplier Certification.
The successful passing of Verified Supplier Certification this time not only further demonstrates the comprehensive strength of Avonflow, but also adds a strong mark to the file of Avonflow's integrity management, providing a strong credit guarantee for customers. This certification is also an important link for Avonflow to deeply open the international market. In the future, Avonflow will, as always, adhere to integrity, and expand the market with improved technology, high-quality products and services, so that more Chinese-made electric towel racks will go global.